Projects about languages and history
Traditional celebrations in Prilep Prochka (Day of Forgivness)
(Прочка, Forgiveness) is a day in the Orthodox Christianity of mutual forgiveness between believers. Date of Procka varies, depends from the date of Easter, and always is exactly 7 weeks before Easter. The religious aspect Forgiveness is one of the manifestations of sincere and self-sacrificing love for one's neighbor, which should follow the example of the Lord Jesus Christ for unconditional and boundless forgiveness among people.
On this holiday, the younger seek forgiveness from the older with the words "forgive me" and older responds "you are forgiven from me and from God"
The day after "Procka" is called Clean Monday, and since then starts Easter fast. Forgiveness also marks the end of winter and beginning of spring holidays.
One of the main elements of Forgiveness is masking and change of clothes, in the town of Prilep there is a carnival similar to Halloween where children dress in outfits and have a celebration. The carnival became a member of the international carnival federation (FECC) since 2004.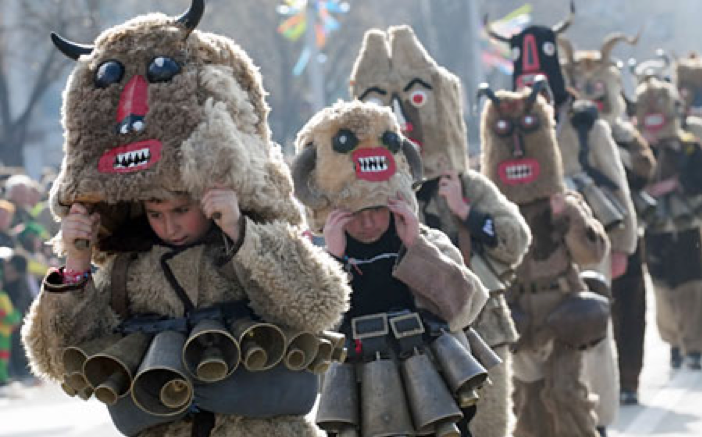 Essay Contest
Essay on migration to the EU and the use of first and second languages
Migration is influenced by a combination of economic, environmental, political and social factors: either in a migrant's country of origin (push factors) or in the country of destination (pull factors). Historically, the relative economic prosperity and political stability of the EU are thought to have exerted a considerable pull effect on immigrants.
The journey is fraught with danger—nearly 3,000 people have perished crossing the Mediterranean this year alone, not counting those who lost their lives en route—and for those who do make it, their future in Europe remains highly uncertain. With the unprecedented volumes of new arrivals, even the best-prepared European countries have reached a breaking point in their ability to meet European Union (EU) standards for receiving and processing applicants. Those with less experience managing immigration or hosting asylum seekers have given in at times to rash or counterproductive impulses. The question of who is responsible for those arriving has reignited deep internal divisions between Member States. According to the International Organization for Migration, it's a crisis that's driving the largest movement of people the world has seen since World War II, stretching from Africa to the Middle East and up through Europe. The Syrian civil war erupted in March 2011, leading to a steady escalation in the number of Syrians seeking protection in Europe since. This is not a crisis of economic migration. The human tragedy in the Mediterranean is the humanitarian fallout of two wars that have no prospect of resolution. In Libya the fall of Muammar Gaddafi has left the country divided and spiralling into increased violence, while in Syria horrifying human rights abuses, particularly of religious and ethnic minorities, are a self-explanatory incentive to flee. People fleeing armed conflict in the Middle East migrate to Europe because they see Europe as a place of peace and wealth compared to the violence and despair that characterise their home countries.
The only way to permanently ease the migrant situation in Europe is to get serious about solving the conflicts that make people flee their home countries in the first place.
STOP THE WAR INNOCENT PEOPLE DON'T DESERVE TO DIE !
Macadonia - our city
Changing the social values of the last 50 years in our city
Prilep is the fourth largest city in the Republic of Macedonia.It has a population of 66,246 and is known as "the city under Marko's Towers" because of its proximity to the towers of Prince Marko.The Macedonians are very well aware of the world around them as well as the differences in opinions and behaviors. Because of this they are quite understanding of various cultures and foreigners so odd behaviors are generally accepted (but not encouraged).
The traditional dress in Macedonia is quite varied. This small mountainous country has dozens of traditional outfits, most of which are based on region or city as each part of the country had different traditional dresses. However, there are a number of similarities across all these people in the way they dressed. Women tended to wear full dresses, generally in white, red, and black; they were generally loose-fitting with long sleeves and an apron over the top. For men, the style was similar as red, white, and black vests first caught the eye, but loose-fitting white shirts that fell nearly to the knees like a smock were also commonly worn over white pants.
Today these traditional outfits can only be found on special occasions as nearly no one wears them on a regular basis. More common today is to wear modern western-styled clothing that is similar to clothes found throughout the world. These clothes can range in style and design significantly just as they can elsewhere.
As a visitor to Macedonia you are welcome to wear any western-styled clothing, but do dress for the occasion as churches and more formal settings require long pants, but if wandering around a city as a tourist shorts and a t-shirt was just fine. Also be sure to dress for the weather as the country has significant seasonal variations.